Electrical Safety

A current Electrical Safety Certificate is not something that all Landlords are aware of or the  importance to Tenants safety.  Letting Agents will usually refuse to rent a property without the correct safety certificates (Gas, Electric) in place as this would almost definitely affect their own professional indemnity insurance.

The most reputable organisation in the electrical industry is, the NICEIC who are approved by over 95% of the local authority councils around London, the South East and the Home Counties. Tenants can check to see whether the property they are renting has, a current Electrical Safety Certificate online or with other electrical organisations.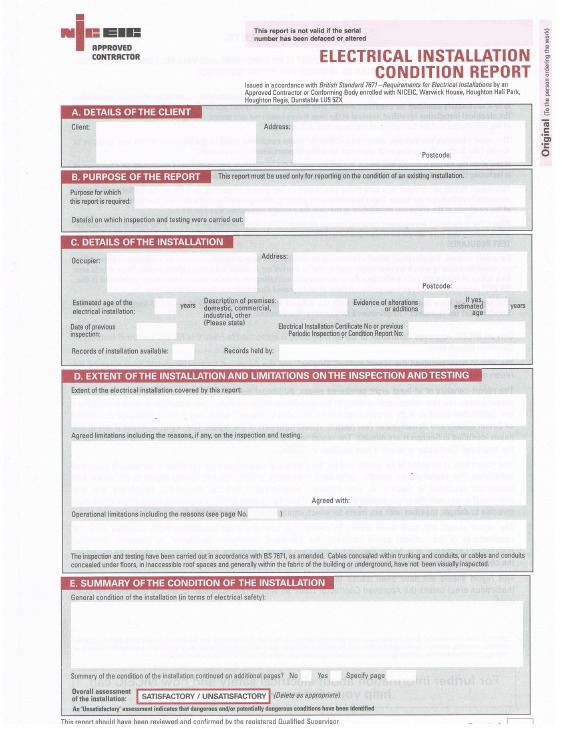 Electrical Satety Certificate

If you are a Landlord and looking for a reputable electrician in your local area then click here to get a list of registered NICEIC electrical contractors in your local area. A NICEIC contractor can supply you with an Electrical Safety Certificate so you comply with the law and your Landlords insurance.
The main reason for a Landlord to have a current electrical safety certificate is because, the wiring in the rental property could be either damaged, old or faulty. An electrical problem may have arisen from previous Tenants or  a homeowners attempts at trying to complete their own installations, without actually being qualified to do so.
A homeowner, Tenant or electrically unqualified Landlord could possibly have ignored the correct safety procedures that could cause a fire, or other related electrical problems to the property. Without having the property inspected by a qualified professional, or an electrical certificate to guarantee it is safe, then the Landlord is taking a chance by putting their Tenants at risk.
Faulty Wiring
 Faulty Wiring is the main cause of house fires and there are many different reasons as to why it is imperative to make sure that an electrical safety certificate is present when landlords are renting to their tenants. With no electrical safety certificate present, the Landlord will become liable if faulty wiring leads to a fire that either kills or injures the tenants or their pets and a manslaughter charge could become a reality.
Without this Electrical Safety Certificate a Landlords Insurance will become void, leaving him/her to foot the bill for the damage, repairs and any civil proceedings or criminal proceedings relating to death or injury to tenants and/or their pets